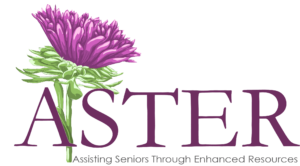 Our Mission
ASTER is a non-profit focused on seniors, their lives, their needs and resources unique to our aging community.  The purpose of ASTER is to engage in events and projects within the community to help educate and include members our aging members throughout the Foothills of La Crescenta, Montrose, La Canada-Flintridge and Sunland-Tujunga neighborhoods.
Our Story
ASTER was developed in a small meeting room at Verdugo Hills Hospital, currently USC Verdugo Hills Hospital. A Board room full of professionals with a special place in their heart for seniors. Over the past few years, ASTER reached out to the community via events to inform and help educate seniors on topics from fraud to staying healthy. We then took a 2-year hiatus due to conflicting schedules for so many of our Board members. ASTER is now emerging back into the community with the same passion but a slightly different approach. Adopting projects and places in the community to help engage our seniors. In addition, ASTER will be joining forces with other senior businesses and organizations to share vital and relevant information for seniors and their caregivers.
Meet the President of ASTER
Robbyn Battles
Robbyn is one of the founding members of ASTER. Her passion for seniors came about when to significant events occurred in her life. Her father became ill and she saw how seniors were treated. Second, she was appointed to chair a senior committee when she was elected to CV Town Council in  1999. ASTER was founded in 2002. Robbyn served on CV Town Council for 7 years, 2 years as President. Robbyn now serves on the LA City/County joint commission titled Purposeful Aging. In addition, she continues to run her real estate business Battles Real Estate at JohnHart in La Canada-Flintridge.
Robbyn Battles
Have a Passion for Seniors...
ASTER is currently looking to rebuild its Board and make a more significant impact on our Communities. Want to help?
email: ASTERnetwork@gmail.com